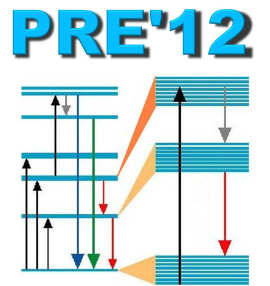 4th International Workshop on
PHOTOLUMINESCENCE IN RARE EARTHS:
PHOTONIC MATERIALS AND DEVICES (PRE'12)
March 28-30, 2012, Kyoto, Japan
PRE'12 has closed in great success.
You can enjoy the atmosphere at the Photo Gallery.
It was decided that next edition of the Workshop (PRE'14) will be held at San Sebastian, Spain on May 14-16, 2014.
See you again at San Sebastian in 2014.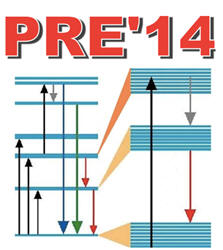 Welcome message

We would like to welcome all of experts and attendees from different countries in the world to PRE2012, which will be held on March 28-30th, 2012 in Kyoto, Japan.
We have great honor to organize the International Workshop on Photoluminescence in Rare-earth: Photonic Materials and Devices. The first one was held in Trento, Italy in May 2005 and covered a wide range of researches of rare-earth ions in optoelectronics and photonics. The second PRE'07 was held again in Trento, May 2007, and the third PRE'10 in Firenze, on April 29-30, 2010. We are glad to follow the best traditions of this series and decided to organize in Japan. We hope to provide discussions between researchers working on photoluminescence of rare-earth ions in various materials and devices.
We extend our warmest greetings to you and hope you will have a enjoyable stay in the spring season of Kyoto during PRE' 2012.
Cherry blossom pictures in 2011 ( Year of H23 )
Inquiries
Prof. Setsuhisa Tanabe
(Kyoto University, Japan)
Division of Materials Function
Graduate School of Human and Environmental Studies
Kyoto University
Yoshida-nihonmatsu-cho, Sakyo-ku, Kyoto 606-8501, Japan

pre12(a)pre12.org